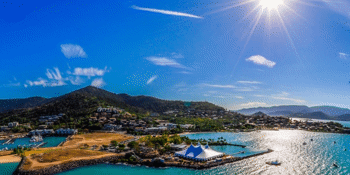 Airlie Beach Festival of Music 2019
Featuring: John Butler, The Superjesus, John WIlliamson, Smokie (uk), Yothu Yindi, Mahalia Barnes, Bon But Not Forgotten and many more
Whitsunday Sailing Club and Various Venues (Airlie Beach, QLD)
Fri 8 - Sun 10 November 2019 12:00 PM
Airlie Beach Festival of Music 'better than' ever
What could be "better than" John Butler performing at the Airlie Beach Festival of Music from November 8-10?
For some fans seeing this blues and roots legend will be the highlight of the festival's seven years to date.
For the man himself, 'JB' is looking forward to "going with the flow".
"I've been lucky to play a lot of great places over the years and I look forward to seeing what the vibe is like (in Airlie Beach)," he said.
"For me the most important thing is connection with the audience; I remember that more than anything else to be honest, so I hope the audience wanna bring their 'A- game' like I do."
"But I really enjoy playing to all types; I'm playing solo so it's different but essentially the energy is the same (and) you can expect me to be having fun at the very least."
Joining John Butler on the line-up for 2019 are Australian icon John Williamson, and UK chart-toppers Smokie, best known for their tribute to unrequited love in "Living Next Door to Alice".

Daughter to an icon, Mahalia Barnes, will also grace the idyllic waterfront main stage setting at the Whitsunday Sailing Club, along with the Superjesus and Australia's most recognised Indigenous band, Yothu Yindi.
Meanwhile AC/DC fans are in for a treat, with 'Bon But Not Forgotten' described as the closest anyone can get to the real thing.
Featuring a knock-out line-up, including past members of AC/DC and Aussie rock icons The Angels, Rose Tattoo and Wolfmother, this band knows how to electrify a crowd with its explosive repertoire of AC/DC's greatest hits.
Making history at the festival for a second consecutive year will be the Airlie Beach 'All Stars' consisting of Nicky Bomba, his band Bustamento, Golden Guitar award-winning Clare O'Meara, and rock 'n' roll legends Frankie J Holden and Wilbur Wilde.
Fans who saw the All Stars' impromptu performance in 2018 after Smash Mouth lead-singer Steve Harwell was forced to retire, say it was pure musical magic.
Other headline acts include the Australian Rock Collective, comprising Darren Middleton (Powderfinger), Kram (Spiderbait and The Wrights), Mark Wilson (Jet), and Davey Lane (You Am I, The Pictures and The Wrights).
http://www.airliebeachfestivalofmusic.com.au/