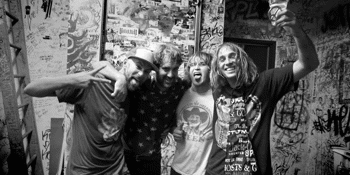 Offbeat Presents
Goons of Doom & Then Jolene
Seaview Tavern (Woolgoolga, NSW)
Saturday, 23 November 2019 8:00 pm
They believe in love and aliens and ghosts and beer and funerals and goth moths and they're back with their most politically sensitive record to date Black Skull Bong. It's the Goons of Doom and like your favourite relo whose name you can't remember until they bring your belated birthday present to the family luncheon, these four mad cunts from Sydney's Northern Beaches (who all moved to Bangalow four years ago to invest in medical marijuana crops) are back to surprise you with songs and poetry in the key of total fucking awesomeness.

It's been a while between releases for the Goons of Doom and though Black Skull Bong contains the usual piston squirting anthems from days of yore, there's an undeniable maturing within the song writing as well. "The first Goons records were all about exploring our sexuality, about problems with girlfriends, trying to find some money to spend on beer on a Friday night, and rape flavoured sleeping pills, you know, cutesy teenagey shit," says Vaughan Dead. "Now we're a bit older we've got more pressing things to think about, like exploring space for nightclubs, arguing with our wives about fuck knows what, and trying to find time to play rock and roll, drink cartons of beers and smoke bongs with our mates. So, we've grown up a lot."

Themes within Black Skull Bong are as complex as they are many and with a deft touch the Goons navigate topics such as depression (Vinnie Van Goth), alcoholism (24 Bottles of beer), drug addiction (Bong Scum), infant death (the funeral), intergalactic cross breeding (I believe in love and aliens), girls with four arms and four tits (Goth Moth) and pure unbridled happiness (Life Sux), just to name a few.