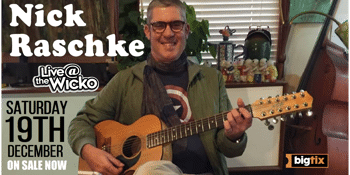 Big Apachee presents
Nick Raschke - Live@TheWicko
The Wickham Park Hotel (Islington, NSW)
Saturday, 19 December 2020 7:30 pm
This is going to be the BEST CHRISTMAS EVER with Nick Raschke - Live@TheWicko!!
Plenty of ticketing options available, make the choice that works best for you.
Playing songs from Jimi Hendrix, The Doors, The Beatles, Nine Inch Nails, The Stranglers, Cream and more..... Nick is the one of the most versatile musicians in the business.
As if playing acoustic guitar wasn't hard enough.... Nick plays an acousitc 12-string (also effortlessly playing lead guitar) and SINGS at the same time!!
BRILLIANT!!
Don't miss out.... Get tickets now before it's too late!!
https://bigtix.oztix.com.au/outlet/event/b095c78a-bfc3-4e42-bd1a-dd49372831fe