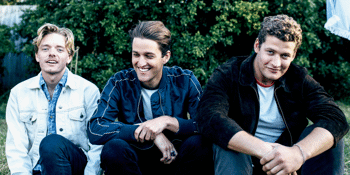 IMC present
Sons of The East
The Newcastle Hotel (Islington, NSW)
Saturday, 30 March 2019 8:00 PM
With a huge year ahead Sons Of the East have decided to go bigger and tour some of their favourite destinations around Australia.
Sons Of The East have now amassed 70 million streams and 16 million YouTube views as their worldwide popularity soars.
The band release their brand new single Silver Lining on March 1st and Sons Of The East plan to take their new songs and cute butts on the long and winding road.
29th March: Sydney - Manning Bar
30th March: Newcastle - Small Ballroom
4th April: Brisbane - The Foundry
5th April: Sunshine Coast - Solbar
April 6th: Byron Bay - The Brewery
April 11th Melbourne - Gaso
Always a treat for the ears and eyes, come and celebrate the launch of their new single Silver Lining with Sons Of The East. Silver Lining is the second single from the band's forthcoming E.P Burn Right Through out April 5th!